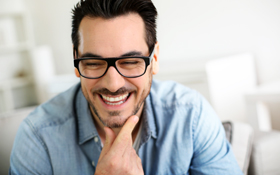 Dental crowns are fitted onto teeth that are cracked, damaged, or decayed. A dental crown is a custom-made tooth cap that covers the visible portion of the original tooth. We can create tooth crowns with porcelain, gold, or a combination of the two, depending on your needs.
Dental Crowns in Decatur, AL
Dental crowns can change the color, shape, and alignment of your natural teeth. Most importantly, they will increase their strength and functionality. You can enjoy a reliable and vibrant smile when you choose porcelain crowns at Decatur Smiles in Decatur, AL, also serving Hartselle.
Dental bridges are used to fill the space where teeth have fallen out or have been extracted. A dental bridge includes two dental crowns and a pontic (replacement tooth). Each tooth crown is placed on a healthy tooth adjacent to the gap to hold the pontic in place.
A dental bridge can keep your smile healthy and beautiful. When missing teeth are not replaced, the patient may experience:
Shifting and changing teeth, resulting in a crooked smile
Malocclusion (dysfunctional bite)
Jaw pain
Gum disease
Your custom-made dental bridge can safeguard the integrity of your smile for ten years or longer.
Procedures
Before placing a tooth crown or dental bridge, your Decatur dentist will prepare the teeth. The teeth receiving dental crowns should be filed down slightly to make space for the new restorations.
After preparing the tooth for the tooth crown, Dr. Teichmiller will take impressions of your teeth and send them to a dental lab. This lab will design and manufacture porcelain crowns or dental bridge that fit in seamlessly with your smile.
Dr. Teichmiller can provide you with a temporary tooth crown or dental bridge so that you can enjoy a perfect smile while you wait for your permanent restoration.
Caring for your Dental Work
Carefully brush and floss your porcelain crowns or dental bridge every day. Avoid grinding or clenching the jaw, as these habits may shorten the life of your dental work. Use caution when biting into brittle or hard foods.
When you come to see us for dental crowns or a dental bridge, you can rest assured that you will receive exactly what you want and need. We will always listen to you and create the restorations that suit you perfectly. Call Decatur Smiles to schedule your consultation today!
Related Content