Decatur Dentist Dr. Stephanie Teichmiller, DMD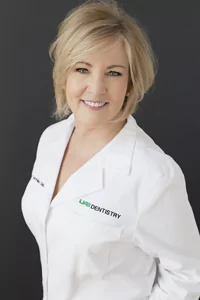 Dr. Stephanie Teichmiller, DMD, graduated Turris Fidelis from the University of North Alabama with a liberal arts degree in Professional Biology, Chemistry, and Business. She is also an honors graduate of the University of Alabama School of Dentistry, where she earned her Doctor of Dental Medicine Degree.
Dr. Teichmiller completed an Oral Pathology Fellowship and was awarded a prestigious International Association of Dental Research Award. Dr. Teichmiller has been practicing Dentistry for 33 years!
Dr. Teichmiller's post-graduate training includes extensive study in Cosmetic Dentistry, Dentures, TMJ, and Implants.
Dr. Teichmiller also trains the future Dentists of Alabama! She teaches part-time as an Assistant Professor at the University of Alabama School of Dentistry where she holds numerous leadership positions.
She volunteers her Dental skills in many organizations! She is the official Dentist for the Miss Alabama Pageant and gives an Annual "Smile" Scholarship to a young lady pursuing a career in Medicine or Dentistry. She takes part in many volunteer programs such as "Give Back a Smile", "Donated Dental Services", and her own signature dental philanthropy foundation "Mission: Makeover."
Dr. Teichmiller is a Rotary Paul Harris Fellow. She has served her community as the President of the Mental Health Association, Junior League of Morgan County, and was recently tapped by the University of North Alabama's first lady to serve as Assistant Chair to the inaugural Women of Influence Committee. Dr. Teichmiller, Decatur dentist, was also featured in Who's Who in Decatur!
Her most notable accomplishment was her 2018 international recognition as an ICON OF DENTISTRY from the Ultradent Corporation. See the Press Release here:
She is has been married to Dr. Chris Teichmiller (Optometrist) for over 30 years. They have two grown children, Ann Sutton and Nichols. When not practicing, teaching, or mentoring, Dr. Teichmiller enjoys the outdoors including fishing, hunting, and gardening. She is an avid reader. She is a true 'foodie' and considers herself a 'gourmet wanna-be' cook!
Decatur AL Dental Services
Dr. Teichmiller and her team specialize in many types of Cosmetic Dentistry and Restorative Dentistry services at their dentist office in Decatur Alabama. Some of those services include:
Schedule an Appointment with Dr. Teichmiller
If you are looking for a Decatur dentist or if you are in need of dental services in Somerville, Trinity or Falkville, AL, do not hesitate to contact us today.